Supported Industries
Manufacturing
Marketing & Public Relations
Technology
Legal
eLearning & Education
Financial services
Healthcare
Entertainment
Consumer Products / Retail
Insurance
Travel/Hospitality
Life sciences
Government
Aerospace/Defense
Automotive
Many more
  Supported File Types
MS Word
PDFs
InDesign
Powerpoints
Excel
Image Files
Videos/Animations
eLearning Applications
Many more
Affinity Translation provides expert business translation and localization services by native speaking linguists for all types of written material and digital content. Spanish, French, German, Italian, Arabic, Portuguese, Russian, Chinese, Japanese, and Korean are among the most commonly requested languages for translation.
We provide translation services for the above languages and many others including European, Asian, Middle Eastern, and African languages.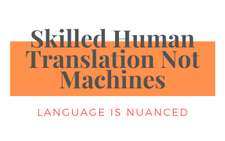 Business Translation Process
To consistently provide high quality business translation services to our clients we follow a structured process. Our standard multi-step translation & QA process is outlined below.
A. Review and Preparation
Source material is reviewed to identify special requirements; glossaries/special project instructions are readied.
Translation is carefully prepared by a professional translator native speaking in the target language.
Translated text is reviewed and edited by a second translator following the initial translation.
Document text is formatted according to the specific requirements of the project.
Final translated and reviewed text is sent to the client via email or secure upload for application.
For Immediate Information Call Us At: 1-800-570-4424